Angel G.Piñero, classical guitar composer and guitarist
Ángel G. Piñero is a Spanish composer and guitarist from Cádiz, born in 1932, who has a varied and extensive musical career as a soloist.
He is currently immersed in his role as a composer. Its objective is to create a repertoire for young artists and enrich the heritage of classical guitar.
In 2014 Ángel G. Piñero created a classical guitar competition for young Spanish and foreign talents between the ages of 18 and 35. This is the Ángel G. Piñero International Classical Guitar Competition, which this year celebrates its seventh edition, and is held in El Puerto de Santa María (Cádiz, Spain). Until now, it has brought together guitarists from countries in Europe, America and Asia for all these years. Due to the covid-19 crisis, the contest is reinvented this edition will be held through the internet.
In April 2016, the Cádiz-born guitarist created the Classical Guitar Association that bears his name with the intention of "promoting classical guitar in the world".
In 2019, the 1st Andalusian Classical Guitar Contest was launched, organized by the mayor of the Cádiz town of Espera, Mr. Pedro Romero, under the artistic direction of Ángel G. Piñero.
In both contests the participants exclusively interpret their works.
The works by Ángel G. Piñero have been sounded at important music festivals, such as the Madrid International Contemporary Music Festival (COMA) and on stages in Europe and America. For 2020 there are several important concerts on the program in which the public can enjoy their musical pieces if the Coronavirus does not prevent it.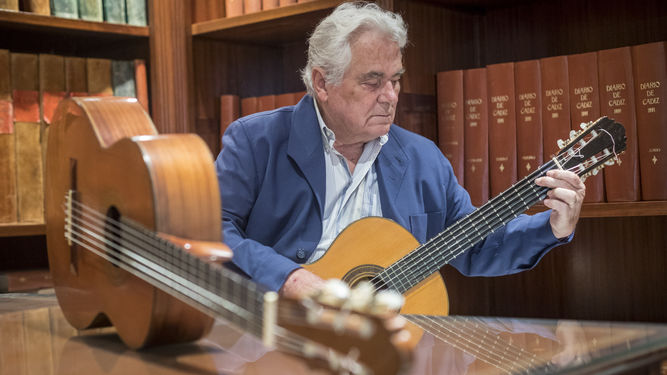 His musical training is summarized in 17 years of official studies, culminating in higher studies of harmony, counterpoint, fugue and composition at the Munich Conservatory. Later he began to compose music, beginning with the guitar methods and composing musical works in the 80s. His facet as a composer alternated with his work as a soloist.
Currently his work consists of six works for guitar and symphony orchestra, eight works for guitar and string quartet and twenty works for solo guitar.
He is the author of the PIÑERO Classical Guitar Method, books with about 100 original studies for guitar, and the PIÑERO Accompaniment Method. Each of these methods is made up of four books. He is also the author of another method of accompaniment to traditional rhythms. All the methods have been translated into German and the first into English.
His music dedicates a part to his land, Andalusia, which includes three Andalusian dances. One of them is dedicated to Cádiz, his native land, a classical guitar work based on bulerías. "Alegrías en el Puerto" is the title of another of his Andalusian dances, dedicated to El Puerto de Santa María inspired by the "Alegrías", and there is a third work dedicated to Andalusia entitled "Fantasía Andaluza".
One of his most recent works, "Canto a la serranía", is a tribute to Espera. All of them are works for guitar and symphony orchestra.
In his own words "there is very little music written for guitar and orchestra compared to all that is written for piano and orchestra or violin and orchestra".
In discography, he has recorded two CDs entitled "UÑA Y YEMA" in which there are concert works by Ángel G. Piñero, originals for guitar. He also makes a demonstration of nail and bud techniques with works from the 16th and 17th centuries with the bud (Diego Pisador, John Dowland, Robert de Visée, etc …) and XVIII, XIX and XX with the nail (Bach , Sor, Tárrega, Granados, Albeniz and Piñero).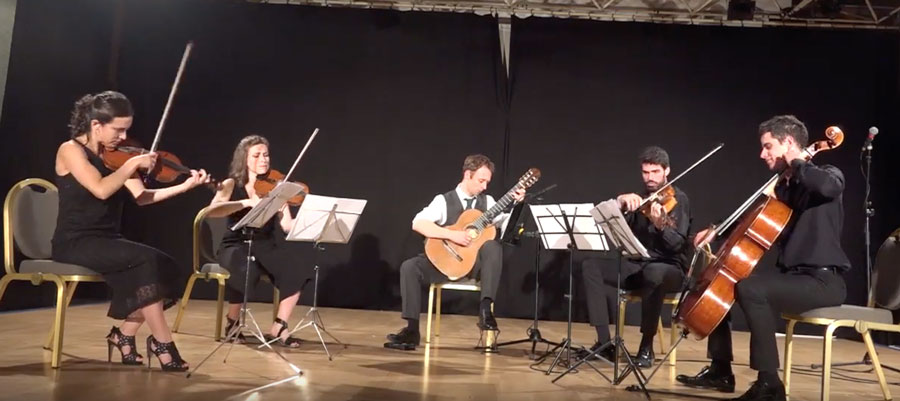 His third CD is dedicated to the works composed by him with a variety of foreign guitarists who have been awarded in the "Ángel G. Piñero International Classical Guitar Competition". (Thierry Bégin-Lamontagne, Martin Bickerton and himself) playing solo guitar works, guitar and quartet works and guitar and orchestra works). His music is also marked by specific moments in his life. The fifth work in his repertoire for guitar and symphony orchestra is Plenitud, a work that he began to compose in the US on a trip in 2010.
Para escribir sus composiciones, Ángel G. Piñero se inspira en su estado de ánimo, aplicando lo aprendido durante muchos años en el Conservatorio.
Su pasión por la guitarra clásica ha marcado toda su vida. "Siempre me he sentido acompañado con mis guitarras". Una vida marcada por anécdotas de todo tipo. Por ejemplo en EE.UU se quedó en tierra con sus guitarras porque no se quiso separar de ellas y dejarlas en la bodega del avión, mientras su maleta volaba a Miami. "Podría escribir un libro de mis aventuras con las dos guitarras".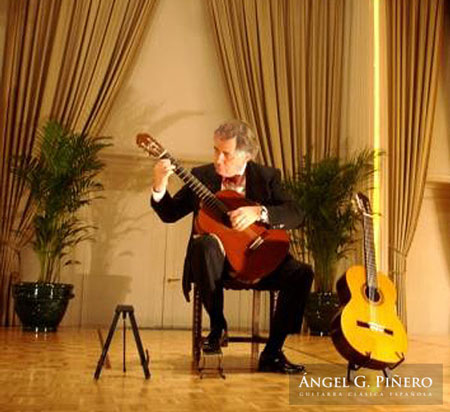 Born in Cádiz 1932 (Andalusia), he studied music (music theory, guitar, harmony, counterpoint, fugue, chamber music, history of universal music, etc …) at the Superior Municipal Music Conservatory of Barcelona, ​​later studying composition at the Munich Conservatory.
This great artist causes the admiration of different audiences for his great ability (unique in the history of Music) to play the guitar with both hands. And this is explained by the following:
There are two techniques for playing the guitar, which have given rise to the birth and development of two schools of different sounds, such as the pulsation of the strings with the finger nail and the other with the fingertip. Each of these techniques have had great defenders such as Fernando Sor, Francisco Tárrega and Emilio Pujol – the yema – or Dionisio Aguado, Miguel Llobet and Andrés Segovia – the nail.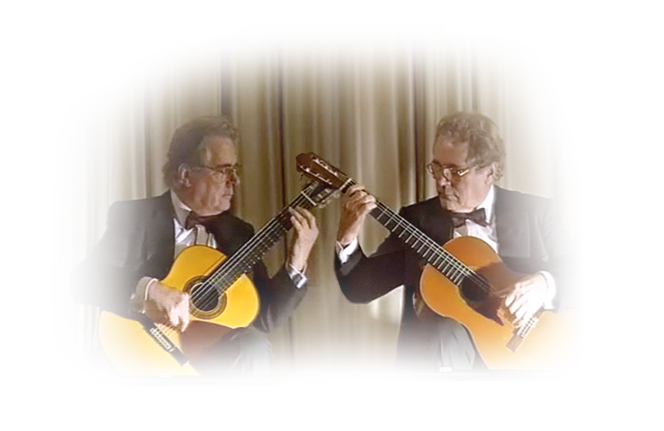 Guitarists of all ages have been forced to dispense with one of these two techniques, as one is totally incompatible with the other, since one requires playing the guitar with long nails and the other with completely trimmed nails.
That is why Ángel G. Piñero has studied the guitar twice, once with his right hand, cultivating the school of plucking the strings with the fingertip, for Renaissance and Baroque music, prior to technical modifications in the neck of the guitar invented by Ángel G. Pinero and built by Estruch (Barcelona) in 1970, and another, with the left hand, cultivating the school of the plucking of the strings with the nails for the classical, romantic and contemporary repertoire, playing with a guitar specially built by Ignacio Fleta (Barcelona) in 1969 to be played with the left hand, the only one that he has built in this sense.
Thus he opens new horizons for the study of the instrument and being the only concert performer in the history of the guitar who achieves both sounds, giving each one of them, in concerts, the place that it deserves in the general repertoire of music.
Here you can find all the discs published, classical guitar methods, accompaniment methods and original works.
Giving me a call
(+34) 607 710 443