We regret to inform you that the Classical Guitar Association "Ángel G. Piñero" has decided to suspend the International Classical Guitar and String Quartet Competition due to the difficulty of coupling the two with the current situation.
Of course, the registration fees will be returned to those already registered and, in compensation for their work, they will have in their possession the scores of the works.
2nd INTERNATIONAL COMPETITION FOR CLASSICAL GUITAR AND STRING QUARTET "ANGEL G.PIÑERO"
COMPETITION RULES
In this contest only

compositions by the Spanish composer Ángel G.Piñero will be played.

These compositions will be sent to the  participants to study as soon as their registration 

is completed.

 

The musical expression and the Tempo will be especially graded.

The contest will have a 1st Prize of 3.000 €.

A 2nd Prize of 2.000 €.

A 3rd Prize of 1.000 € with the collaboration of AIE.

 

The jury will be headed by Maestro Angel G. Piñero.
Participants are required to have finished their superior guitar studies or in the process of finishing the last courses. They also must be under 36 years old.

 

Maestro Angel G. Piñero, guitarist and compositor will give a MASTER CLASS 

by Internet about technique and interpretation to the participants. He will also

 

send by mail a personalized comment about each performance.

 

The registration fee is 100 € non-refundable. This can be done

through wire or bank transfer.
Information needed of the participants: Nationality, Address, age, photo, email adress and Curriculum Vitae.
The participant must send the pieces recorded on video

 

(Format MP4) and if possible the audio in .WAV format. Everything must be sent to us by We Transfer before

  May 7th 2022

.

The decision of the jury will be final and published as soon as 

possible Facebook with the video of the winners.

There will be a wide difusion of the winners in the Social medias.

   

For this, you will be asked to give us Contacts of 

Musical Magazines of your countries.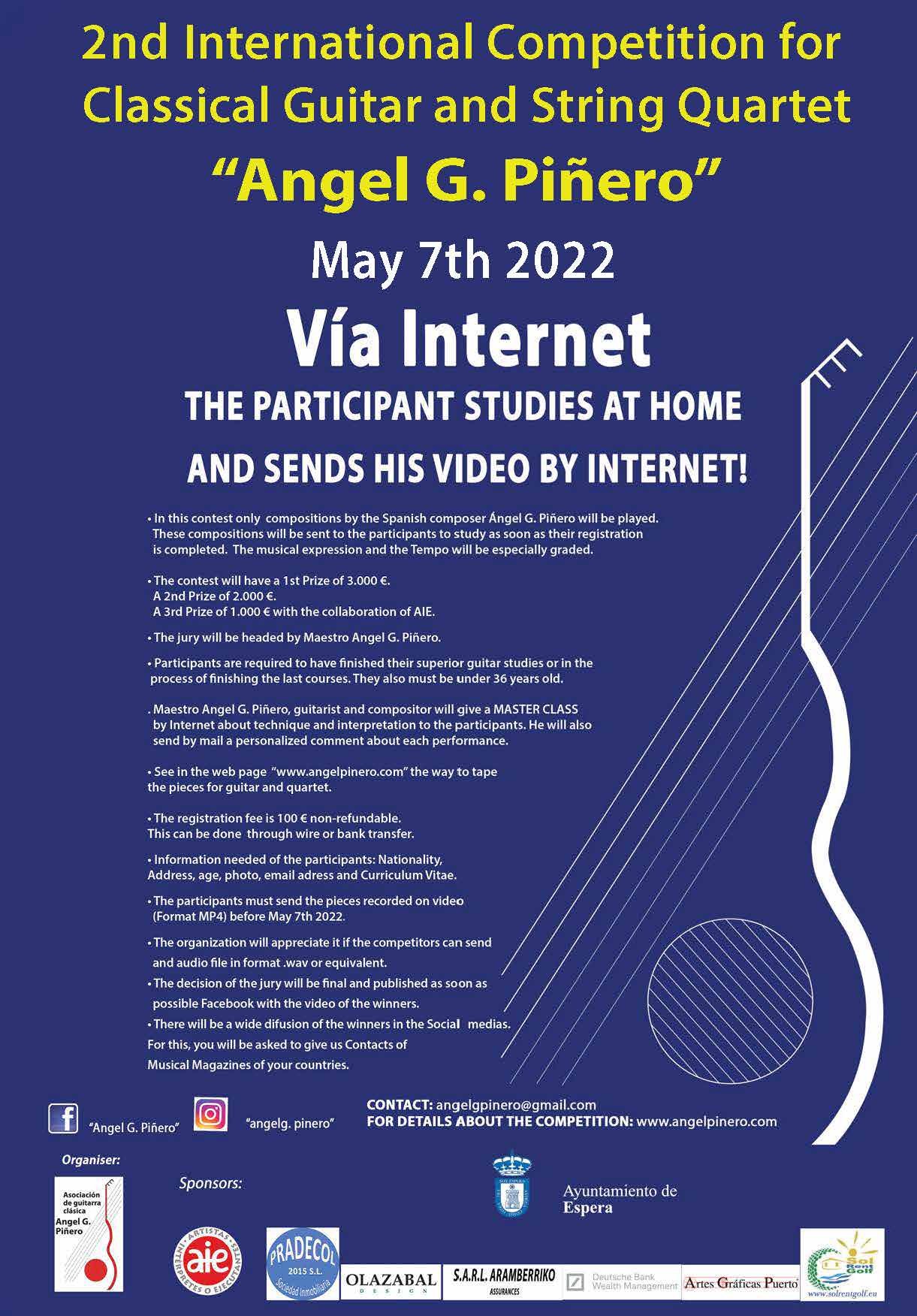 To make the pre-inscription effective, you must send us your CV, an artistic photo with guitar and proof of payment of the inscription to angelgpinero@gmail.com
ASOCIACION DE GUITARRA CLASICA "ANGEL G. PIÑERO"
Calle Maldonado 55, 28006 – Madrid, ESPAÑA
Deutsche Bank
Paseo de la Castellana 18
Madrid, ESPAÑA
Cuenta Nº IBAN ES5400190030644010285381
SWIFT/BIC DEUTESBBXXX
Thanks and I am looking forward to seeing you in the Competition.
Here you can find all the discs published, classical guitar methods, accompaniment methods and original works.
Giving me a call
(+34) 607 710 443